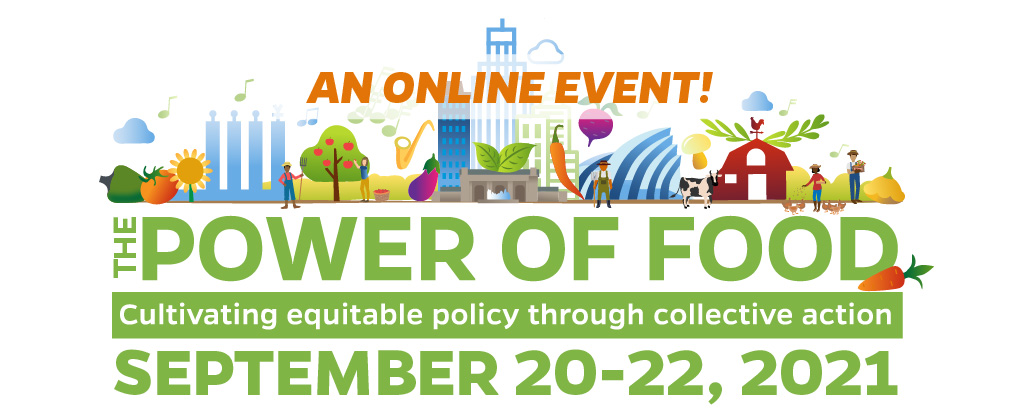 The Power of Food: Cultivating equitable policy through collective action is going virtual!  Same dates, (mostly) same program, and now in many places. The Johns Hopkins Center for a Livable Future (CLF) is organizing the first-ever national forum for food policy councils and similar groups from September 20-22, 2021.  We wish to thank Mid-America Regional Council, KC Healthy Kids and the 23-member planning teams for their support in organizing this event.
Who should attend?
Are you part of a food policy council or considering starting one?
Are you seeking to change your local food system?
Do you need a new perspective on food and farm policy work?
How is the Forum different from a conference?
A forum is a place or event where people exchange ideas and discuss issues, especially important public issues. Unlike a conference, we are not inviting formal presentations; we want to use this time and space to strengthen relationships, recognize our collective power, share experiences, learn new skills and re-energize for action. We may ask for volunteers to talk about their experiences to initiate a discussion, but we want to avoid "talking at" participants in such a way that discourages conversations.
What is radical hospitality?
One of the guiding principles for this event is radical hospitality, whereby we will strive to create an equitable space that invites and welcomes people from all walks of life and listens to their contributions. We particularly want for those that tend to go unheard to feel engaged and empowered to share, disagree and act. All are welcome.
Registration is now open! The Forum will take place Online. Sign-up here for regular updates.