Photo Contest: All Things Food 2020
2020 was an unimaginable year. The usual food policy activities were vastly reimagined. To document where things stand, both for reflection and posterity, we collected photos from across the country showing what food systems work looked like in 2020. The photo submissions we received are listed below. All photos are available for public use; click on the link to download the full-resolution photo and attribution information.
"Food Security Meets Get Out the Vote": 1st place
by Steve Ventura
Madison West High Area Collaborative; under Madison Food Policy Council (Wisconsin)
One volunteer readies bags to provide food assistance to low income residents of Madison while another tucks in information about how to register to vote and how to cast an absentee ballot. The Madison West High Area Collaborative is an all-volunteer organization "that operates as a food relief program to help address the widespread food insecurities exacerbated by the COVID-19 pandemic.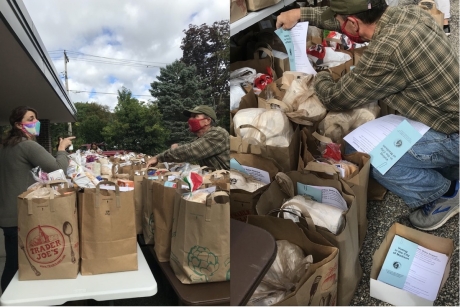 "Little Goyret 'Maters' & Food is Free NWTN Little Free Food Pantry: 2nd place
by Samantha Goyret
Northwest Tennessee Local Food Network (Tennessee)
As the pandemic grew, so did Sofia and Marco's relationship to each other. They also realized that our food we grew from our family garden could help others who need food. They would gather cherry tomatoes throughout the growing season and help bag them up to then drop them off at our little free food pantry in our community for others to enjoy.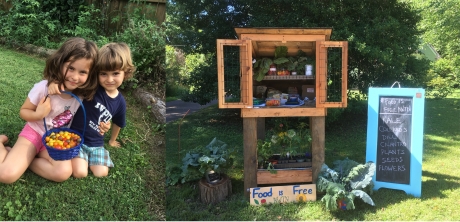 "El hambre no tiene que ser un secreto (Hunger does not have to be a secret)": 2nd place
by Soira Ceja
Safe and Abundant Nutrition Alliance (SANA) (Colorado)
We know that hunger doesn't discriminate, but it affects everyone differently. The Safe and Abundant Nutrition Alliance (SANA) works alongside community members to connect them to culturally appropriate food assistance and to develop solutions that are rooted in equity. The hunger problem is bigger than ever, but it does not have to be a secret.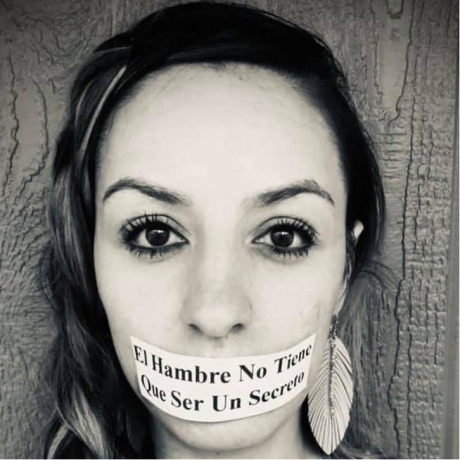 "Pandemics and Plastic Packaging: School Meals in 2020": 3rd place
by Meghan Hadley
FoodCorps Americorps (Connecticut)
In 2020, school meals look a little different. School cafeterias are constrained by packaging requirements, staffing shortages, delivery procedures, and safety measures. At Tracey Magnet School, all students are eligible to receive free school meals every day and our cafeteria staff works hard to make sure nothing gets in the way of that.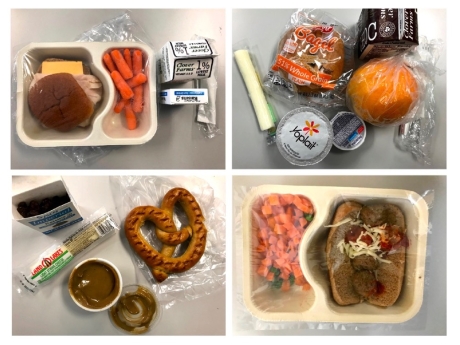 "Grow & Glow": 3rd place
by Maggie Nowak
Mill City Grows, Inc. (Massachusetts)
In the midst of a global pandemic, our Lowell community asked how they could help. Mill City Grows' volunteer program was relaunched, volunteers picked up shovels, and school gardens were rejuvenated!
"Farming during wildfire season": 3rd place
by Jess Chandler
21 Acres Center for Local Food (Washington)
Anthony and Emily from the 21 Acres farm crew were beyond exhausted in this image, still wearing their respirators after a long day on the farm. It was cover crop week and that meant all-hands-on-deck to seed the rye vetch mix despite the heavy smoke from West Coast wildfires blanketing the region. A favorite staff person donated the lawn chairs so that the team had a place to crash near the wash pack station at the end of each day.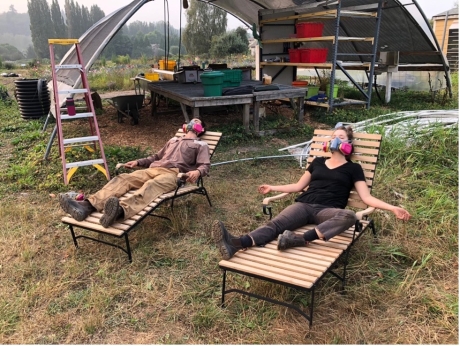 "Curbside 3-5"
by Eli Herrnstadt
Bmore Community Food (Maryland)
Bmore Community Food began in March as a COVID-19 response and it has grown into one of the largest food rescue and distribution efforts in the city. With the help of passionate volunteers through community drops, curbside giveaways, and a city-wide delivery network built from the ground up, BCF is currently distributing about 100,000 pounds of food a month.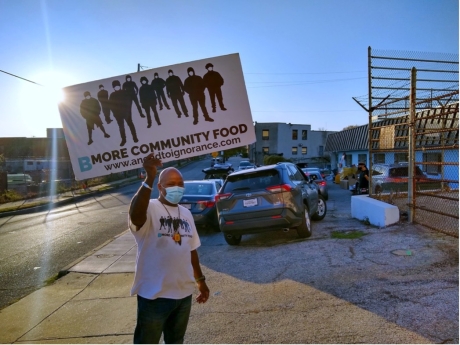 "Veggie Goodie Bags"
by Falon McGinty
Good Food Collective (Colorado)
Roots of Health Employee Foodshare Program provided hospital employees with weekly shares of vegetables supplied by local farmers who were grappling with COVID-induced collapses in market channels. Fran, pictured above, dedicated her time as a volunteer for three months by assisting with veggie distribution days. I handed out fresh, local food to eager and thankful frontline healthcare workers while reading poetry, discussing aspirations, telling stories, and learning about life with this fiercely compassionate human whom I now consider a dear friend. Amid all the chaos and hardship associated with 2020, let this photo serve as a testament to the undeniable value of human connection and good food.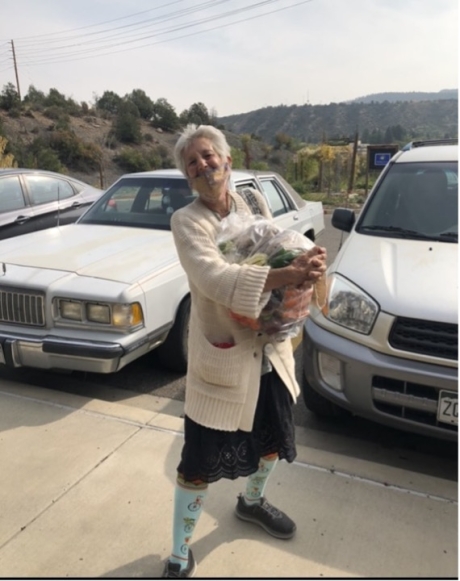 "Returning to the earth to return again"
by Dagmar Holl
Philadelphia Seed Hub (Pennsylvania)
In my meditation, I was focusing on the early winter landscape and the bareness of it. Then when I finished meditating, I looked to my left and saw this bounty, a neighbor's compost pile in Mount Airy, PA. The contrast was beautiful to see. Seeds, food, and land are still resilient in all of this.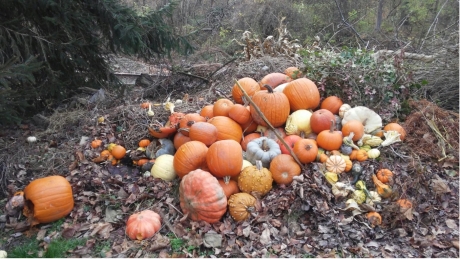 "2020: The Year of Sourdough"
by Kelly Kogan
George Mason University Office of Sustainability (Virginia)
The Covid-19 pandemic and associated lockdowns triggered widespread interest in the art of making sourdough bread. Not only is sourdough bread more nutritious than mass-produced bread, but it can also only be made in small batches and remains fresher longer, thereby reducing food waste.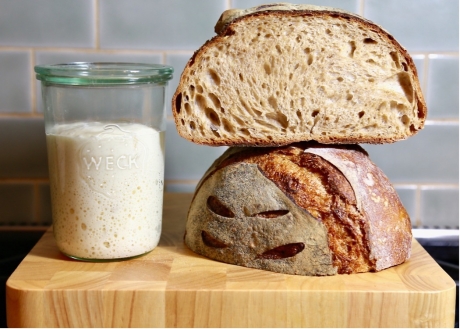 "Growing Together"
by Olivia May
Poughkeepsie Farm Project (New York)
While lending a hand to the farm crew harvesting carrots, I came across an intertwined pair that managed to grow together. In the current climate a sense of togetherness can be rare, but it is something I found volunteering at an urban farm. Not pictured here is a group of volunteers who took time on a cold fall afternoon to minimize food waste and help support a local not-for-profit. In these carrots I can see a cooperative food system, growing together, intertwined with justice and joy.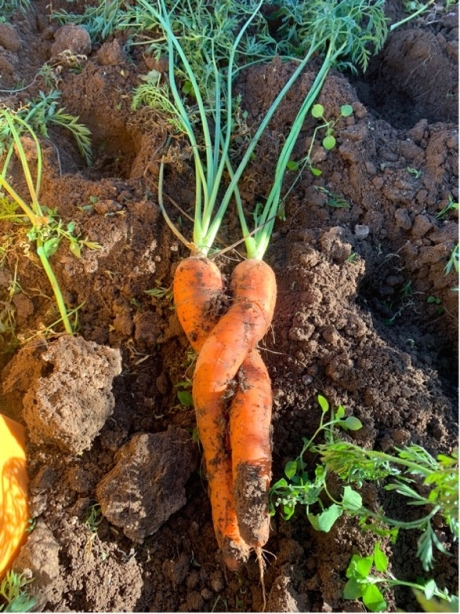 "COVID Community Get-to-know-you Gardens"
by Stephanie Henry
Food Council of Northeast Indiana (Indiana)
As weeks of isolation dragged on, I decided to create these mini gardens as a way to meet the neighbors. These were assembled over a few weeks, with little notes introducing me as their new neighbor and suggesting some uses for the assorted starts. We went for a couple of walks, dropping them off on doorsteps and porches throughout the neighborhood, where the responses ranged from bewildered to enthusiastic.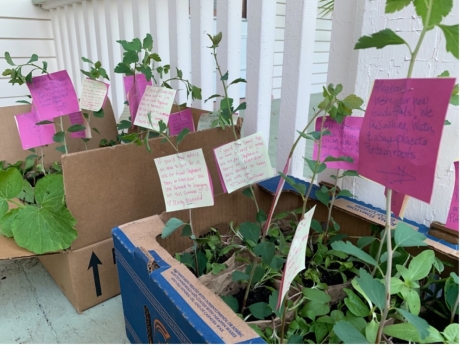 "Splitting hives"
by Pratyoosh Kashyap
Department of Agricultural and Resource Economics, Colorado State University (Colorado)
COVID-19 made provision of agricultural extension services more crucial than ever, as well as more challenging to deliver the services. This photograph is from the Archuleta county in Colorado, where bee keeping demonstrations were done for the local community as something which could be practiced in one's yard to even a larger scale operation.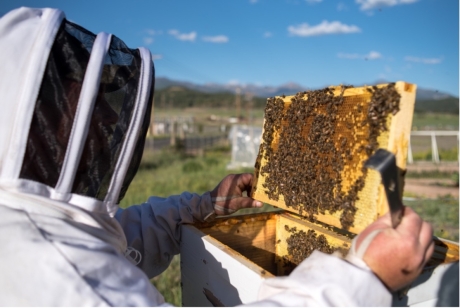 "Uplifting"
by Liz Marron
San Luis Valley Local Foods Coalition (Colorado)
Summer of 2020 marked the Farm Stand's grand opening which provides additional opportunities for farmers to sell produce and for members of the community to access fresh food outside of the Farmer's Market. The organic goods aren't only for cash-paying customers – farmers were reimbursed through a Farm-to-Pantry grant for delivering their leftover crop to organizations serving low-income individuals. Run by community volunteers and the farmers themselves, the Farm Stand was an interface between the buyer and the grower; it offered a mutual transaction with connection, love, and spirit in a time when the community needed it most.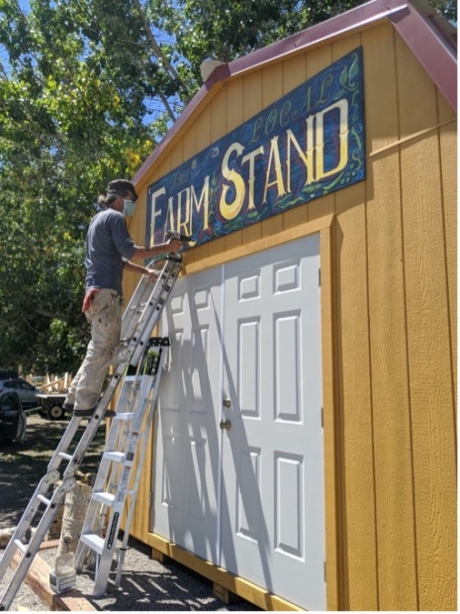 "At the Market"
by Stacy Macklin
Carteret Local Food Network (North Carolina)
We were able to purchase over $10,000 in fresh produce from our farmers, gain approval for SNAP/EBT benefits, and meet those in our community in locations that were easy to access to allow them to purchase local produce that they otherwise would not have been attainable. While COVID definitely handed us some challenges this year, this photo succinctly sums up one of the ways we were able to make an impact in our community.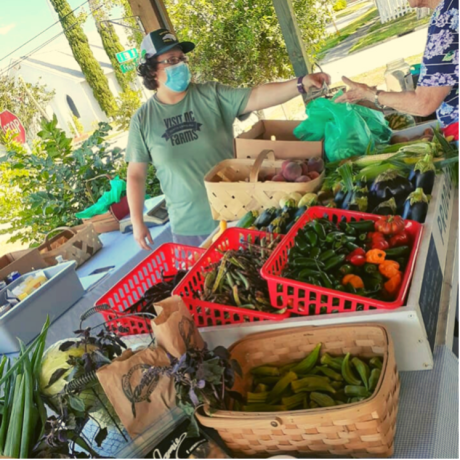 "CSA in COVID Times"
by Sue Bottino
Newton Community Farm (Massachusetts)
Jay Vilar, our Operations, Communications, and Events Manager, is bundled for the cold and taking precautions against COVID-19. Although this may sound like a less personal way to interact, you can see in Jay's expression the absolute joy and pride that Newton Community Farm staff felt when distributing the shares to our wonderful family of customers. The brief, warm exchanges we had with sharers were often the highlight of our week and theirs!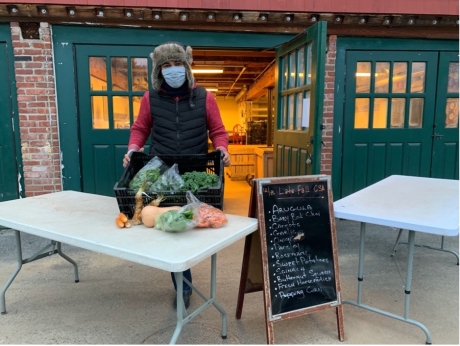 "Berry Time"
by Brittany Ebeling
Schumacher Center for New Economics (Massachusetts)
The Schumacher Center for a New Economics, advocates for the use of collective land ownership models like Community Land Trusts, the rematriation of lands to indigenous ownership, and land gifting as a form of reparations to communities of color. Here, raspberry-picking season is featured in several stages—at the height of summertime's abundance, the collection of its fruits, and preservation in jam jars to be enjoyed for months to come.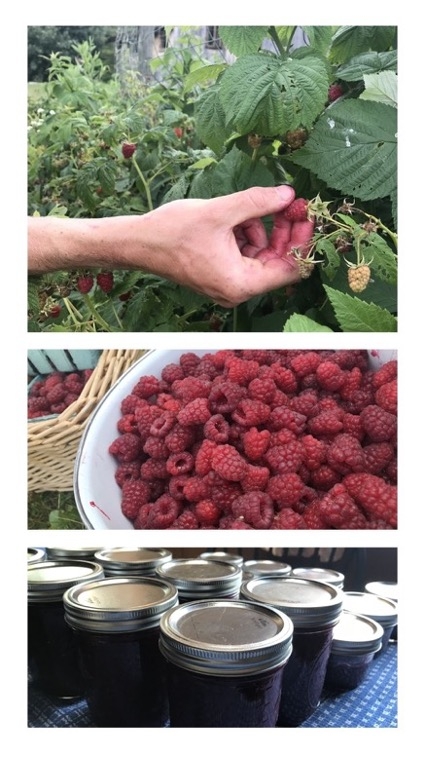 "Feeding Pueblo Local"
by Megan Moore
Pueblo Food Project (Colorado)
Pueblo Food Project has spent the last year making local food and hunger relief a priority. PFP bought local food from Pueblo farms, ranchers, and every food business that we could connect with, which has helped stimulate the local economy and has given our community much needed fresh and good food. The event pictured was a drive-through neighborhood bash where we were able to provide over 300 families with meals.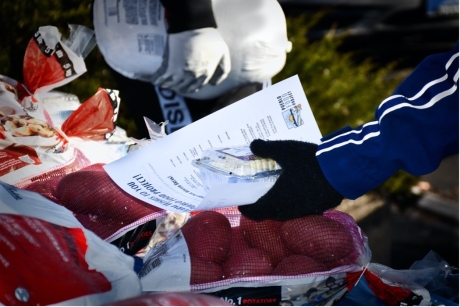 "Apples and Equity"
by Jennifer Bedrosian
Piedmont Triad Regional Council (North Carolina)
As a result of COVID-19, in-person outreach was cancelled, and we pivoted to online surveying and community engagement to conduct a regional food assessment for the twelve counites of the Piedmont Triad with equity as a central component. In early fall, we were able to safely attend outdoor farmers markets and grocery stores to conduct additional survey outreach. As an incentive for survey participation, we offered apples sourced from local farms and a sticker designed in collaboration with the council marketing workgroup that says, "I Care About Food Equity in the Triad."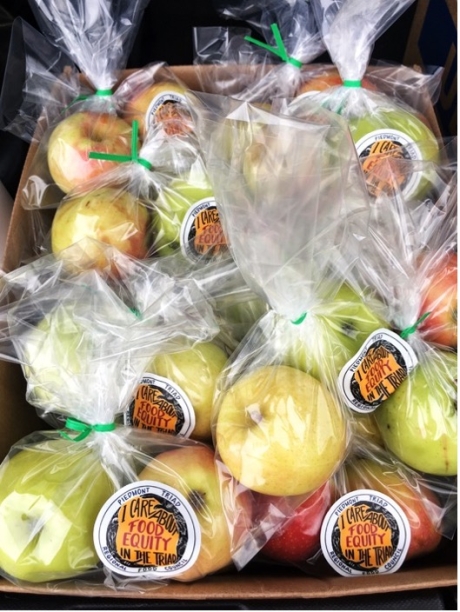 "Butterkin Squash Harvest at the Arma Community Garden"
by Matt O'Malley
Live Well Crawford County (Kansas)
Volunteers at the Arma Nutrition Council's community garden had no idea the transplants were a cross between pumpkin and butternut squash. That didn't matter in the end, because the butterkin pies that were made from the harvests were delicious. The resident-led community garden in the background, which is located in a city park, grew approximately one ton of fresh food that was given away for free through the Arma City Library's food pantry.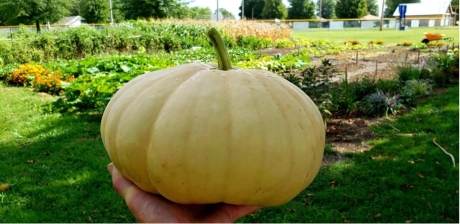 "Fresh Food Box"
by Chara Bouma-Prediger
Community Action House, Ottawa Food (Michigan)
Ottawa Food started a Local Farmers Relief Effort that raised funding to purchase directly from our smaller farmers in the area who needed extra support. Every household who came for our curbside assistance received a fresh food box that not only supported our small, local farmers, but provided for our neighbors who were receiving fresh, healthy options. Already this year, we've been able to provide half a million meals through our food distribution, and all through the collaborative efforts like this one!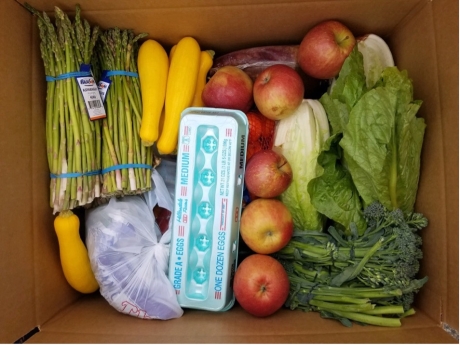 "Whole World in the Palm of My Hand"
by Clare DiSanto
Society for Nutrition Education and Behavior (New York)
Eight Mile Creek Farm raises grass fed beef, chicken, pigs selling products at a farmers market downstate as well as growing organic vegetables. While working for this farm, I learned and performed all tasks required to take vegetables from seed to table. My physical efforts were often done independently, offering space for self-reflection and personal growth. Braving all kinds of weather, I gained strength and appreciation for the farming lifestyle.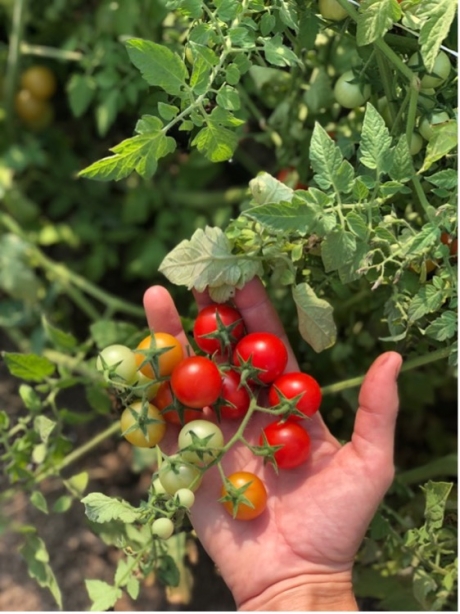 "Oopsy"
by Julie Udelhofen
Newman Catholic Schools (Iowa)
This year we received a grant from the Iowa Department of Agriculture and Land Stewardship made possible through the CARES act. This allowed us to buy local, farm fresh products which makes perfect sense when about 90% of Iowa land is devoted to agriculture!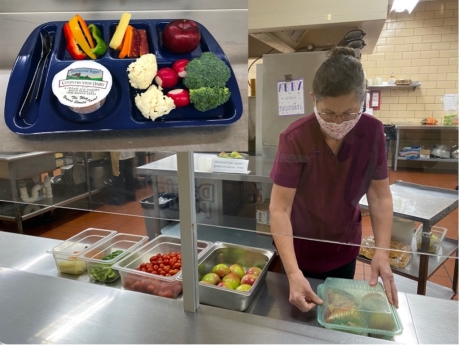 "Cat Among Kale"
by Emily Foxman
Johns Hopkins University
On our way home from the vet, we decided to take a quick detour to San Jacinto Community Garden – one of our favorite destinations to get outside and tend to our little veggie plot during COVID-19. The garden has been a great way to safely meet others, grow our own food, and get our hands dirty over this past year.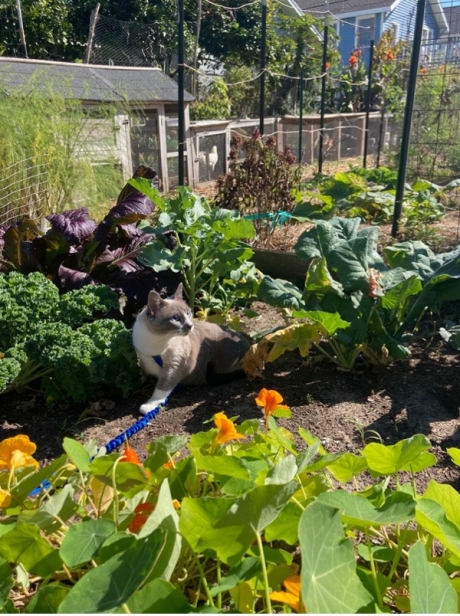 "Heavy Lift"
by Christine Grillo
Johns Hopkins University (Maryland)
Volunteers sorting and packing emergency food bags for Johns Hopkins employees in need.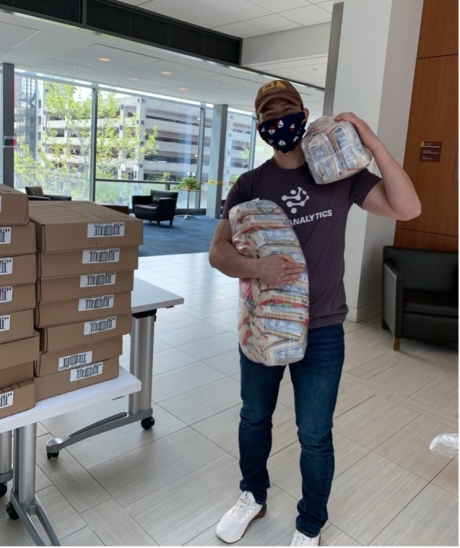 "Bag Lady"
by Brent Kim
Johns Hopkins University (Maryland)
Volunteers sorting and packing emergency food bags for Johns Hopkins employees in need.